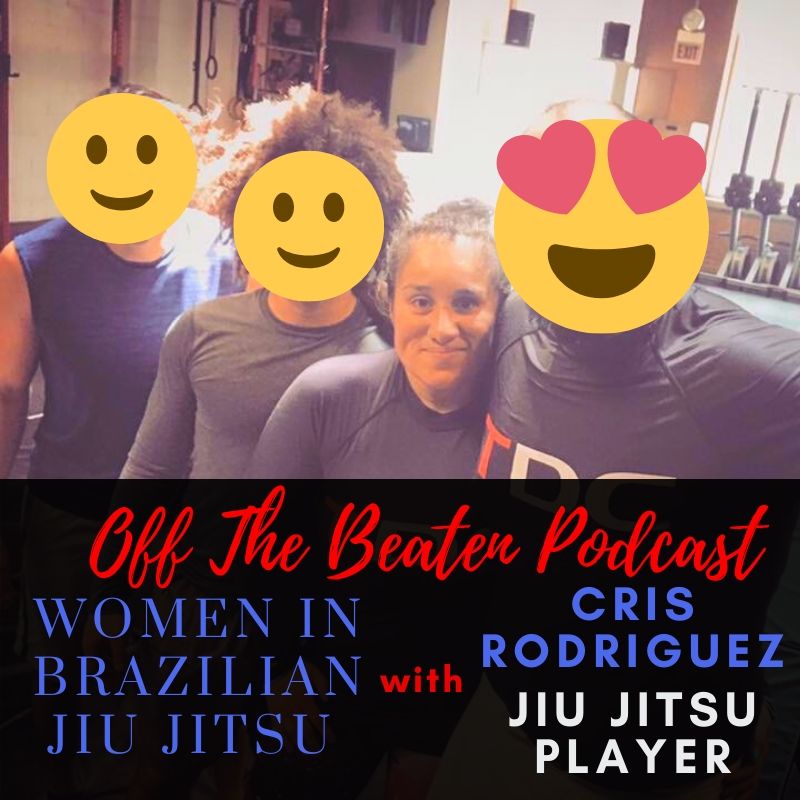 Hello Friends!  This episode is the continuation of the conversation I (@Dionsmusica) had with Cris Rodriguez (@grlnxdr2513) back in February.  Cris is a former EMT, currently working in a hospital in the Chicagoland area. Chicago has an amazingly active and vibrant Brazilian Jiu Jitsu community, that even includes stars at the pinnacle of the Mixed Martial Arts activity. I haven't yet had the opportunity to talk about Chicago Jiu Jitsu for any length of time with previous guests, so I was intrigued to hear about Cris' BJJ journey, as well as her perceptive on the activity and sport as a female in a male dominated culture. Cris was vibrant and forthcoming, and offered tons of insight.  Check it out!!!
After listening, be sure to subscribe, rate and review on your podcast app of choice! 
SIGN UP for the Off The Beaten Podcast newsletter: Sign Up Here!
Buy Me a Cup of Coffee: buymeacoffee.com/OffTheBeatenPodcast
Also, I have an exclusive offer for OTBP listeners! Visit reppinpins.com and get 20% off your entire order with discount code OTBP20.  You won't find this deal anywhere else!  
Follow Cris on Twitter: twitter.com/grlnxdr2513
Follow Cris on IG: instagram.com/casual_chokester
Follow OTBP on IG: instagram.com/offthebeatenpodcast
Follow OTBP on Facebook: Facebook.com/OffTheBeatenPodcast
Follow OTBP on Pinterest: pinterest.com/offthebeatenpodcast
Visit the OTBP website: dionmcgill.podbean.com
Visit the OTBP Blog: Off The Beaten Blog
Got something to say?
Give us a call and leave a voicemail: (312) 488-9068
Email us: beingsillyinthecity@gmail.com
Calling all musicians!!!  Would you like your music featured on an episode of OTBP? E-mail us a streaming link: beingsillyinthecity@gmail.com 
Music licensed from Purple Planet Music & Epidemic Sound
Podcast Artwork courtesy of Heather Calvert (@HCAL23)