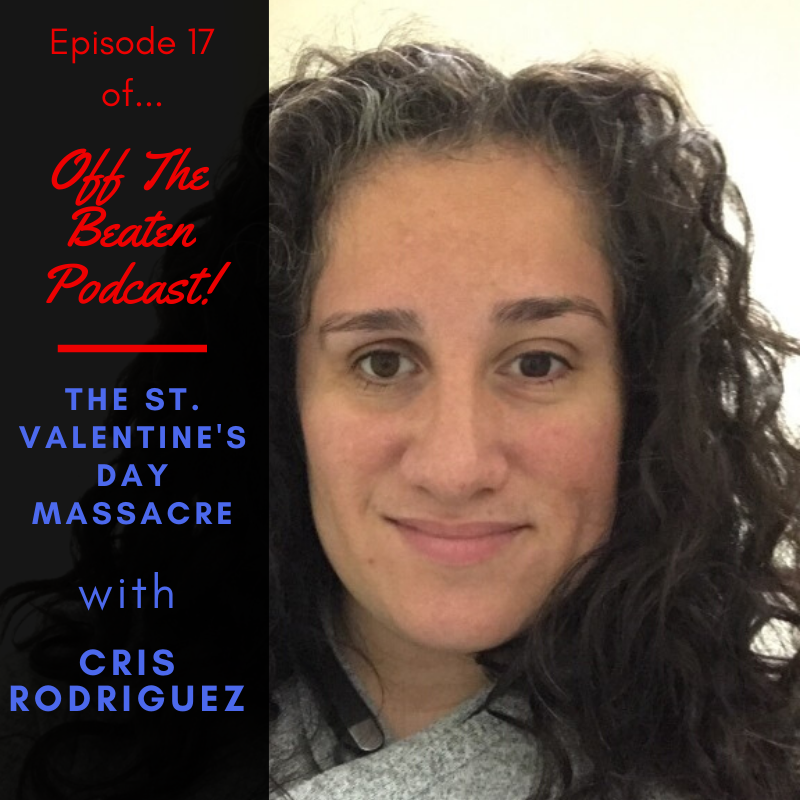 Hello Friends!  This week I had the pleasure to sit and chat with Cris Rodriguez (@grlnxdr2513).  Cris is a former EMT, currently working in a hospital in the Chicagoland area. Valentine's Day has just passed, and I reached out on social media for anyone who was interested in talking about the St. Valentine's Day Massacre, and Cris answered the call.  She'd been watching the docuseries Making The Mob: Chicago and was totally excited at the prospect of talking mobsters and murder. While getting there, we touch on a bunch of other topics.  Also, I lost a chunk of the audio in the recording process, but the episode turned out great.  Also, there is a treat at the end of the episode, so don't miss that. 
Here is a link to the show on Amazon Prime: The Making of the Mob: Chicago
What to know about Rising STD Rates Among Seniors: US Health
Want to win the war on drugs? Portugal might have the answer: Time Magazine
LA County DA moves to dismiss 66,000 Marijuana-related convictions: NPR
City of Chicago Cannabis Dispensary Locations: City of Chicago Website
After listening, be sure to subscribe, rate and review on your podcast app of choice! 
SIGN UP for the Off The Beaten Podcast newsletter: Sign Up Here!
Buy Me a Cup of Coffee: buymeacoffee.com/OffTheBeatenPodcast
Also, I have an exclusive offer for OTBP listeners! Visit reppinpins.com and get 20% off your entire order with discount code OTBP20.  You won't find this deal anywhere else!  
Follow Cris on Twitter: twitter.com/grlnxdr2513
Follow Cris on IG: instagram.com/casual_chokester
Follow OTBP on IG: instagram.com/offthebeatenpodcast
Follow OTBP on Facebook: Facebook.com/OffTheBeatenPodcast
Visit the OTBP website: dionmcgill.podbean.com
Send Dion A Tweet: twitter.com/Dionsmusica
Follow Dion on IG: instagram.com/Dionsmusica
Send Dion A snap: Snapchat.com/add/dionsmusica
Read Dion's Blog: Off The Beaten Blog
Got something to say?
Give us a call and leave a voicemail: (312) 488-9068
Email us: beingsillyinthecity@gmail.com
Calling all musicians!!!  Would you like your music featured on an episode of OTBP? E-mail us a streaming link: beingsillyinthecity@gmail.com 
Music licensed from Purple Planet Music & Epidemic Sound
Podcast Artwork courtesy of Heather Calvert (@HCAL23)