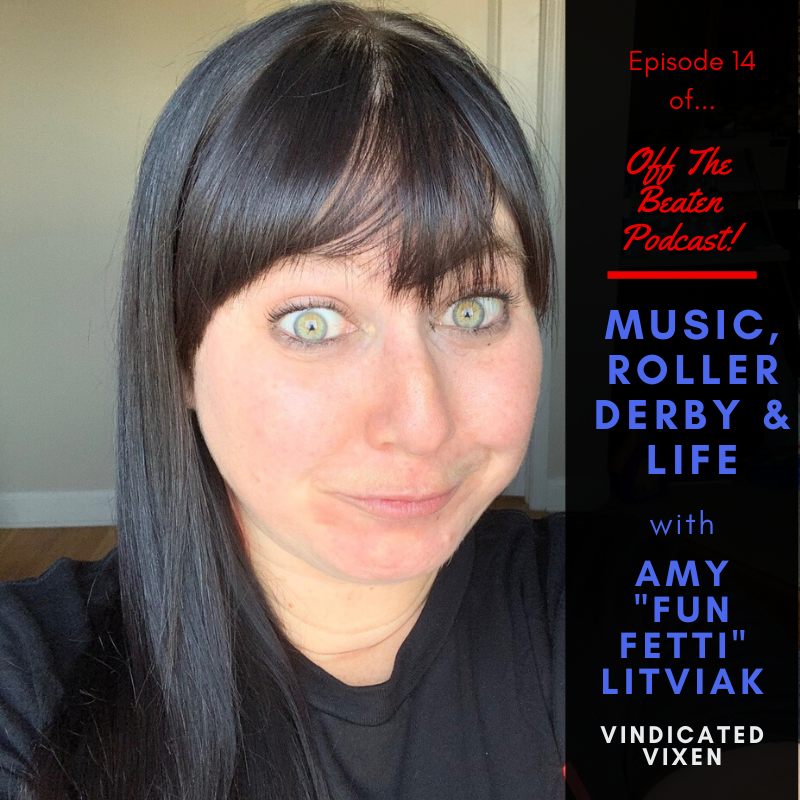 This episode Dion (@Dionsmusica) talks with music aficionado, roller derby girl, and mom Amy "Fun Fetti" Litviak (@kupkake_Amy)  In addition to staying active as a "band mom," working full-time, and helping take care of her family, Amy is a member of the Vindicated Vixens Roller Derby Team.  
Dion and Amy met years ago while enjoying bands in the local Chicago rock music scene, so that's where the conversation begins.  From there, Dion aims to learn more about roller derby.  Finally Dion and Amy talk being parents of teenagers, and what it's like being so busy and maintaining a happy and fruitful relationship.    
Also, there was so much talk about music, we went ahead and asked Amy to create a playlist of some of her favorite songs.  Go on over to Spotify for the OTBP Episode 14 Funfetti Playlist
After listening, be sure to subscribe, rate and review on your podcast app of choice! 
SIGN UP for the Off The Beaten Podcast newsletter: Sign Up Here!
Huge thanks to Podcorn for sponsoring this episode. Explore sponsorship opportunities and start monetizing your podcast by signing up here: https://podcorn.com/podcasters/
Also, we have an exclusive offer for OTBP listeners! Visit reppinpins.com and get 20% off your entire order with discount code OTBP20.  You won't find this deal anywhere else!  
Tweet Amy:Twitter.com/kupkake_Amy
Follow Amy on IG:Instagram.com/funfetti_vixen/
Check out the Vindicated Vixens: vindicatedvixens.com
Follow OTBP on IG: instagram.com/offthebeatenpodcast
Follow OTBP on Facebook: Facebook.com/OffTheBeatenPodcast
Visit the OTBP website: dionmcgill.podbean.com
Send Dion A Tweet: twitter.com/Dionsmusica
Follow Dion on IG: instagram.com/Dionsmusica
Send Dion A snap: Snapchat.com/add/dionsmusica
Read Dion's Blog: Off The Beaten Blog
Got something to say?
Give us a call and leave a voicemail: (312) 488-9068
Email us: beingsillyinthecity@gmail.com
Calling all musicians!!!  Would you like your music featured on an episode of OTBP? E-mail us a streaming link: beingsillyinthecity@gmail.com 
Acknowledgements:
This show was recorded on:
Blue Yeti Microphone
Audacity
Intro music courtesy of: https://www.purple-planet.com. The place for royalty free music.  
Podcast Artwork courtesy of HEATHER CALVERT (@HCAL23)