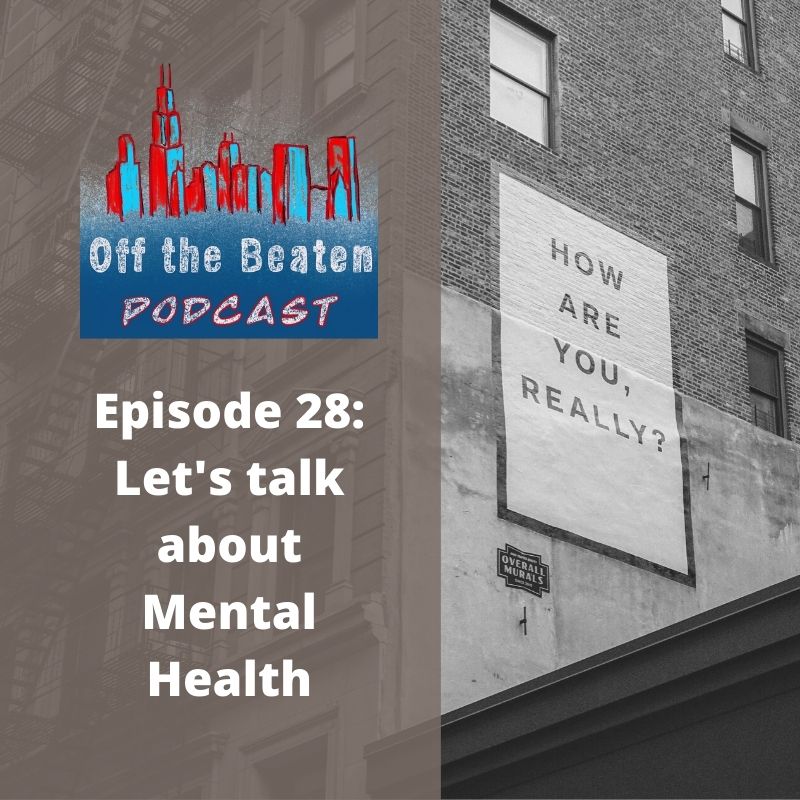 Hello Friends. We're still in the middle of a pandemic, and it appears new stressors are coming at us every day.  I personally have been struggling with my mental health, so I thought it a perfect time to talk about it, and offer some tips and resources for others who may be struggling also.  If you've been down in the doldrums, this episode is for you. 
After listening, I'd love it if you subscribe, take a minute to rate and review, and share this episode with a friend. That's the podcasting trifecta! 
You can also SIGN UP for the Off The Beaten Podcast newsletter: Sign Up Here!
I would love to hear your thoughts on this episode. Got something to say?
Give us a call and leave a voicemail: (312) 488-9068
Email us: beingsillyinthecity@gmail.com
Also don't be afraid to slide into my DM's on any of the social media platforms. 
Off The Beaten Podcast swag is finally here! Go visit the OTBP store on teespring to get your own coffee mug and facemask today! OTBP Store
You can support the podcast by Buying Me a Cup of Coffee. Every dollar donated goes into helping me make the podcast better. : buymeacoffee.com/OffTheBeatenPodcast
Also, I have an exclusive offer for OTBP listeners! Visit reppinpins.com and get 20% off your entire order with discount code OTBP20.  You won't find this deal anywhere else!  
Follow OTBP on IG: instagram.com/offthebeatenpodcast
Follow OTBP on Facebook: Facebook.com/OffTheBeatenPodcast
Follow OTBP on Pinterest: pinterest.com/offthebeatenpodcast
Visit the OTBP website: dionmcgill.podbean.com
Visit the OTBP Blog: Off The Beaten Blog
Visit the OTBP Store: Off The Beaten Podcast Teespring Store
Additional Resources: